About Announcement Lists: Building Loyalty, Recognition and Trust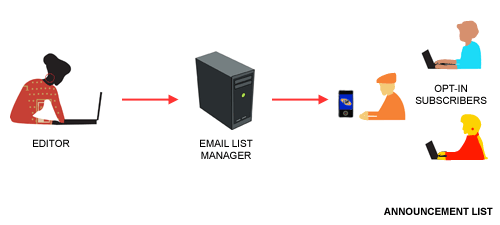 Announcement lists are an easy and cost-effective means of communicating with a large number of people. Also known as one-way lists, announcement lists facilitate communication from authorized senders (usually one or a few editors) to the entire list. List members receive messages but do not interact directly with one another. Announcement lists provide a valuable solution for distributing newsletters, product announcements, news alerts, press releases and promotional offers to a large number of recipients.
When administering announcement lists, it is important to use full-featured email list management software. The software should provide double opt-in functionality and an easy-to-use interface for people to automatically subscribe, unsubscribe and change their email addresses or subscription settings. Naturally, the software should also automatically handle bounces or delivery errors, maintain message archives and keep the lists secure. Support for HTML and multi-part messages is also important for creating professional newsletters.
For more informational resources, visit:
About Email Lists Why Email Lists?
About Announcement Lists Why Announcement Lists?
About Discussion Lists Why Discussion Lists?
About Email Marketing Why Email Marketing?
---
LISTSERV is a registered trademark licensed to L-Soft international, Inc.
See Guidelines for Proper Usage of the LISTSERV Trademark for more details.
All other trademarks, both marked and unmarked, are the property of their respective owners.