About Discussion Lists: Building Virtual Communities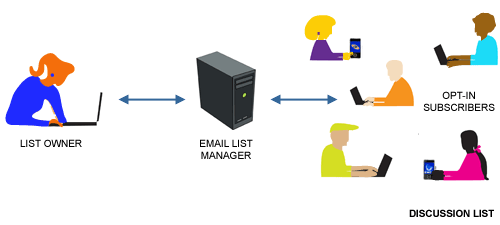 Discussion lists are an effective and widely used platform for interaction among groups of people, providing opportunities for collaboration, information sharing and forming virtual communities. Discussion lists can operate with or without monitoring by a list owner or editor, known as moderation. Examples of discussion lists include technical support forums, interest groups, fan clubs and professional networks. Members of a discussion list communicate around a given focus topic. Each member can send messages to the list for distribution to all subscribers.
Many companies and organizations are using discussion lists to enhance customer communication and to build internal workgroups. Discussion lists are ideal for exchanging expertise, obtaining feedback and fostering collaboration among geographically dispersed work team members. When administering discussion lists, it is important to use full-featured email list management software. The software should provide double opt-in functionality and an easy-to-use interface for group members to automatically subscribe, unsubscribe and change their email addresses or subscription settings. Naturally, the software should also automatically handle bounces or delivery errors, maintain message archives and provide security features that keep the groups free from viruses and spam.
For more informational resources, visit:
About Email Lists Why Email Lists?
About Announcement Lists Why Announcement Lists?
About Discussion Lists Why Discussion Lists?
About Email Marketing Why Email Marketing?
---
LISTSERV is a registered trademark licensed to L-Soft international, Inc.
See Guidelines for Proper Usage of the LISTSERV Trademark for more details.
All other trademarks, both marked and unmarked, are the property of their respective owners.