---
LISTSERV Choice Awards: Hall of Fame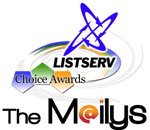 LISTSERV Choice Awards 2012
LISTSERV Choice Awards 2011
LISTSERV Choice Awards 2010
LISTSERV Choice Awards 2009
LISTSERV Choice Awards 2008
LISTSERV Choice Awards 2005-06
LISTSERV Choice Awards 2004-05
LISTSERV Choice Awards 2012
LISTSERV Choice Awards 2011
LISTSERV Choice Awards 2010
LISTSERV Choice Awards 2009
LISTSERV Choice Awards 2008
LISTSERV Choice Awards 2005-06
LISTSERV Choice Awards 2004-05
For more information about the LISTSERV Choice Awards, visit:
Overview | Rules | FAQ | Hall of Fame | Spread the Word
For questions, contact: choiceawards@lsoft.com.
---
LISTSERV is a registered trademark licensed to L-Soft international, Inc.
All other trademarks, both marked and unmarked, are the property of their respective owners.
See Guidelines for Proper Usage of the LISTSERV Trademark for more details.