---
L-Soft News Center
THEBIGBOOK Wins Grand Prize in the LISTSERV Choice Awards – The Mailys 2012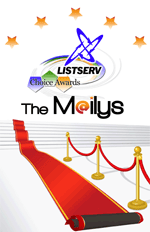 L-Soft is delighted to announce that the winner of the Grand Prize in the LISTSERV Choice Awards – The Mailys 2012 – is The Recovery Group's THEBIGBOOK study list. Founded in 1995, The Recovery Group runs more than 100 LISTSERV lists focused on helping people recover from eating disorders using the 12 steps of Alcoholics Anonymous.
"The Big Book list hosts an online study each year. Beginning in January, we study the first 150 pages of The Big Book, which the original members of Alcoholics Anonymous wrote. Many think of The Big Book as an 'instruction manual for addicts' and the facts are that addiction has no boundaries. Food just happens to be our 'drug of choice'," said Linda S., Coordinator of THEBIGBOOK. "Our LISTSERV list has archives going back to 1999. Each leader's share, as well as the responses to the daily assignments are there, where they can be read for years to come by those who struggle with eating disorders all over the world."
---
The Future Of Neighborhood Communication
LISTSERV Inventor and L-Soft Founder and CEO Eric Thomas joined Jennifer Golbeck of the University of Maryland and Maria Thomas of Loosecubes to discuss email lists and the future of neighborhood communication on The Kojo Nnamdi Show on July 31.
"It's wrong to cap an email list at 150 subscribers because not everyone is going to be an active participant ... but the number of active people participating on a list that flourishes is invariably around 100-200."
– Eric Thomas on Dunbar's Number

Yhä useampi asiakas shoppailee netissä
Sveriges Radio, Sisuradio, City Sisu March 1, 2013
Teresa Ahola, Outi Tuomaala
The Future of Neighborhood Communication
The Kojo Nnamdi Show, Tech Tuesday July 31, 2012
Kojo Nnamdi, Jennifer Golbeck, Maria Thomas, Eric Thomas
For more information about L-Soft or to schedule an interview, please contact the public relations team at one of the following addresses.
---
LISTSERV is a registered trademark licensed to L-Soft international, Inc.
All other trademarks, both marked and unmarked, are the property of their respective owners.
See Guidelines for Proper Usage of the LISTSERV Trademark for more details.