Celebrate 25 Years of LISTSERV: Join the Online Party and Live Chat on September 15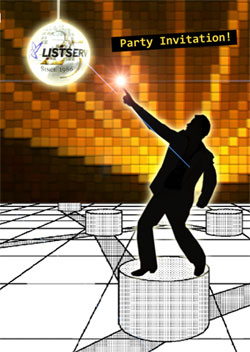 Eric Thomas, L-Soft Founder and LISTSERV® Inventor, and L-Soft staff worldwide cordially invite you to an online party with a live chat and videocast celebrating a quarter-century of the software that pioneered permission email list communication.
Here's everything you need to do to participate and party – LISTSERV-style.
What: LISTSERV 25th Anniversary Online Party and Live Chat
Who: You and LISTSERV enthusiasts and L-Soft staff around the world
When: September 15, 2011

9 AM PDT (West Coast US)
12 Noon EDT (East Coast US)
5 PM BST (United Kingdom)
6 PM CET (Continental Europe)
Where: Wherever you are
How: Celebrate online as an individual or organize a party by inviting colleagues, co-list owners, subscribers and friends, and tune in online from your party location at:

http://www.lsoft.com/chat/livechat.asp
If you are unable to participate in the online party and live chat, please know that you are welcome to submit live chat questions in advance and to view the complete transcript after the event.
---
LISTSERV is a registered trademark licensed to L-Soft international, Inc.
See Guidelines for Proper Usage of the LISTSERV Trademark for more details.
All other trademarks, both marked and unmarked, are the property of their respective owners.