Case Studies: THEBIGBOOK
LISTSERV Choice Awards Grand Prize Winner: THEBIGBOOK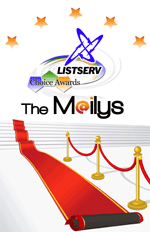 Speaking "The Language of the Heart," The Recovery Group (TRG) is a 12-step organization that confronts the growing tide of obesity and addiction head-on. In the words of Mari C., Founder of TRG: "One of the most effective lists in this extensive community of LISTSERV lists is THEBIGBOOK (BB), an email study group for men and women around the world who suffer from eating disorders."
THEBIGBOOK's members put the guiding principles of the 12-step program into action as they form a community of strength and support with their fellow subscribers who are working the program to overcome food-related addictions. During each BB Study, approximately 400 subscribers, armed with their Big Book, computers, love of the program and desire to quit eating compulsively, work together daily, email by email, person by person, one day at a time.
Amy, a recovering compulsive eater, shares her thoughts: "The Recovery Group (TRG) and THEBIGBOOK study have made it possible for me to seek out discreetly from the privacy of my home, recovery from my addiction to eating and overeating food compulsively. I am able to communicate and share my experience, my strength and my hope with a fellowship of hundreds of other recovered and recovering compulsive eaters from all over the world. The study has helped me to learn about how the addiction to alcohol can also be applied to my addiction of turning to food to escape the things that make my life feel uncomfortable and unmanageable. The Big Book has provided me with a workable solution and a guide to how to find a daily reprieve from my compulsive overeating addiction. I am no longer alone with my disease of isolation and pain because I have found the recovery and the fellowship I craved in The Recovery Group community and have made THEBIGBOOK study my home group of choice for several years."
Mari C. gives perspective on the evolution of THEBIGBOOK email list: "More than 75 years ago, addicts of every kind were given a gift. The gift was the Twelve Steps, and they were contained in a book which would become one of the best-selling books of all time. It became lovingly known as 'The Big Book.' In 1994, the seed was planted to also take advantage of technological advances, but instead of the addiction of alcohol, a new menace affecting people's lives was rearing its ugly head: Obesity! Rampant eating disorders! And compulsive eating! Our world began to show its obsession with food on the outside, pounds began piling on, lives were and are being significantly altered and in some cases destroyed ... and our health was going downhill fast."
Mari adds that The Recovery Group began in 1995, with L-Soft's donation of LISTSERV software, transforming a small manually administered email list "into what was to become a 12-step organization for men and women around the world who suffer from eating disorders."
Describing how THEBIGBOOK is managed, the list's coordinator, Linda S., says: "We have about 13 volunteers, whom we call 'trusted servants' on the list who do the daily shares, welcome newcomers, check in with those who are leaving, send the leaders the daily assignments, put the list on search engines and do monthly reports. We also have four substitutes who can write lead shares if our daily leaders are sick or away. We also have a member who serves as our substitute greeter and farewell person. Our trusted servants are some of the best imaginable. Each one is dedicated to our loop and totally dependable. Each day, without fail, there is a portion of The Big Book, a commentary on it and questions for the members, all coming to the personal in-boxes of our members."
Linda notes: "Our mail volume is significant as our members learn one day at a time about the compelling issues in dealing with food, just as the early members who were the writers of The Big Book learned about alcohol. This is a book that can help alcoholics, food addicts, compulsive overeaters, compulsive undereaters (anorexics), compulsive spenders, sex addicts, gamblers, exercise addicts and many other forms of addiction learn a way of life that is both spiritual and successful. We are a very focused loop. Our shares are strictly about The Big Book. This is not a general sharing loop and we will moderate a member and encourage them to go to one of The Recovery Group's dozens of wonderful general sharing 12-step lists if that is what they need."
Subscriber Susan W. adds: "The Big Book L-Soft list has proven to be a life-saver for me. Daily emails from the co-leaders and other compulsive eaters land in my mailbox each day. This has given me insight that I never thought of, ways to approach things that I never tried, and reminders of how 'the solution' is right there in The Big Book. In these daily emails, I get a new paragraph or two from The Big Book to read and think about. These passages remind me that I'm an addict, yes, but they also offer such hope for recovery. For me, this loop feels like a 'mini 12-step meeting' right in my inbox. It has kept me connected to my program and 'the solution' better than any other loop I've belonged to (though other loops have their benefits, too). I'm so grateful that the loop was started, that there are Trusted Servants keeping it going, and that so many compulsive eaters are willing to share their experience, strength and hope."
Linda S. adds that the THEBIGBOOK LISTSERV list has list archives dating to 1999, where each leader's share and the responses to the daily assignments are available for people coping with eating disorders to read now and in the future.
TRG hosts approximately 100 lists run on LISTSERV software, all focused on recovery from eating disorders using the 12 steps. Many of these LISTSERV lists are "Special Interest Loops" on topics such as diabetes, cancer, kids, chronic pain, abuse, anger, homebound issues, depression, disabilities and many more. TRG also has support lists in five languages and many administrative lists. In addition, there is a vast website at http://www.therecoverygroup.org.
On a personal note, Coordinator Linda S. adds: "I have been associated with The Big Book Study loop since its early days. I started as a regular loop member, someone so shy that I literally ducked under my desk after hitting 'Send' on my first email to the loop. I filled various posts on the loop and eventually ended up as its Coordinator. Working with The Big Book is very important to me. I check my computer many times in the course of a day to see that all is well with this loop and with the others that I coordinate. I am also a member of TRG's Executive Committee, an international group of long-time members of TRG who have held about every service job there is in our community. I have learned a great deal about computers through my affiliation with The Recovery Group and made life-long friends. This has been a wonderful experience and a real blessing in my life."
"Our members are thrilled that we are the 2012 Grand Prize Winner of the LISTSERV Choice Awards. I was filled with joy and awe that we have won such a prestigious award. Thanks so much for making this possible for our beloved community we simply call TRG. It truly is a community like no other. Since the announcement of our win, quite a number of new members have joined our list. As time goes on, this will give even more new people the opportunity to deal with their eating disorders," Linda S. said.
Additional Subscriber Testimonials
"TRG's Big Book list has divided the AABB down into small easily studied sections so I look at it daily. The shares of other members are my daily dose of recovery between meetings keeping me connected with my 12-Step Fellowship. I find learning points and ideas I can relate to in almost every share. I'm so glad this list is here to keep me going over the material in The Big Book every day and reminding me that I am never alone in my battle with compulsive eating."
– Brenda
"I've had an eating disorder all my life but every time someone told me to read the 'Big Book' I thought they were talking about the bible. I do that, too, but it doesn't talk about addiction and food a whole lot. About five years ago I discovered a miracle – the Twelve Steps. I joined The Recovery Group and discovered a smorgasbord of recovery resources, which included a sponsor, the WTS 12-Step Study, a group for anorexics and bulimics (I'm one of those) and the Big Book study. The leaders of this study did a lot more than just inform me that the steps and traditions were written long before I was born ... they gave me example after example every day for the past five years of quotations from the AABB followed by provocative questions. My 'daily assignments' have become a way of life for me. Sometimes I go to my loop archives and look at things I wrote years ago. I'm a different person now and am so grateful. I am a normal weight now. I've never been happier."
– Ana N.
"So often I've opened my email box in the morning and have read one of the excerpts from the Big Book of Alcoholics Anonymous and wondered 'what can that possibly mean to my compulsive overeating?' Up until I started participating in the study, I really hadn't understood that my eating disorder is fueled by the same spiritual malady as my alcoholism. I had always treated them as two separate issues. This has opened my eyes to a new understanding of the addictive disease and allows me to see that the addictions are the same, just different symptoms. What a blessing to have this list."
– Denyse S.
"I NEED to participate daily in the Big Book study to maintain my 12-Step program, and continue with a positive life trajectory. The need for daily introspection as a result of the group leads to a better understanding of who I am and makes me a better person. I'm grateful TRG offers this."
– S.
"For me, the Big Book is a textbook for recovery, whether it be alcohol, food, etc. The leaders and Trusted Servants share their ESH about the first 164 pages of the Big Book so that I might be able to use its wealth of information to recover from this insipid disease. When the topic leaders share their ESH and relate it to their recovery, it helps me to be reminded that I am in the right place and that I am NOT ALONE. As one leader often says ... 'TOGETHER we get BETTER'."
– Linda K.
"The Big Book Study Loop on www.therecoverygroup.org has been an integral part of my 12-Step Recovery for several years now. I rely on it whether I can get to my face-to-face OA meeting or not. It is run very efficiently by a dedicated group of individuals, whose service enhances my recovery every day. Everyone who shares on this loop helps me so much with their experience, strength, hope and honesty. This award is well-deserved."
– Rory
"I have been a member of TRG's Big Loop for over a decade. THE AABB Study has been part of my recovery since then. I found my abstinence here and it has grown stronger each time I work it. I am grateful to TRG for putting this study online and to L-Soft for making it easy to do. Thanks to all of you for helping me keep my abstinence at the top of my daily 'To Do' list."
– Jo
"The TRG Big Book Study is so solid and solution oriented! I find it full of earnest and teachable members. The questions posed by the daily leaders give us fodder to facilitate internalization of the concepts along with a healthy dose of hope. Most importantly, the solution is so well studied and highlighted that it enables me to begin a recovery journey that continues to enrich my life and the lives of those I carry this message to in humble gratitude and service!"
– Lanaya
"It took me some months to decide to read the BB. Everybody was talking about it and telling me how great it was, how much wisdom it contained, but somehow I could read only a few pages, and then I got stuck. I was finding it difficult to understand. One year ago, I heard about a workshop on the BB and I decided to participate, and that has been the right decision. I just loved the workshop, and it gave me many tools I could use to work on the program, and when I went back home I finally read all of the BB in a few days. I found that it was like a map I could use to understand my disease and to find the detailed descriptions of my wrong attitudes and behaviours.

I already knew the BB study loop because I subscribed a few days after I joined Overeaters Anonymous. I was full of enthusiasm and I thought that would have been a good way to read the BB but, just like the book itself, I found it too difficult for me at that time. Moreover, I needed all the spare time I had to work on the steps and so I quit. On the January 1st of this year I decided I wanted a daily commitment and I also wanted to know more in depth the BB and I subscribed again to the BB loop.

Today, reading the passage from the BB, the co-chair shares and finding the answers deep inside myself, have become part of my daily meditation. It is a beautiful way to check where I am and to understand what I need to work on and to see if I am stuck somewhere. This study loop puts me in deep contact with my innermost feelings and emotions, areas that I cannot always touch so easily and be aware of. It is my personal and daily challenge with myself. Everyday I read the questions with a mixed feeling of fear and hope. Fear for not being able to understand the questions or to find anything to say or to be able to express my feelings. Hope to find what is still missing, the key to understand better how to keep working and progressing in this marvelous program.

What I know for sure is that the more I work with the BB study loop, the less fearful I feel. I'm learning I don't have to be perfect, the best, not even to say something intelligent or outstanding. I simply need to share what I feel, what is true for me today and say it in an honest way. I'm very grateful to all the BB study loop servants, the other loopers who keep sharing and the other ones that read the shares. There is space for everybody and we all have the right to be in it, in whatever way we choose and feel is right for us today."
– Sara
---
LISTSERV is a registered trademark licensed to L-Soft international, Inc.
See Guidelines for Proper Usage of the LISTSERV Trademark for more details.
All other trademarks, both marked and unmarked, are the property of their respective owners.