Case Studies: RESADM-L
LISTSERV Choice Awards Grand Prize Winner: RESADM-L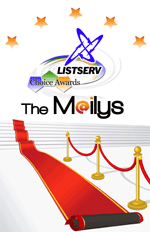 In 1993, before the Internet became mainstream, there were 20 people who wanted to come together, to "talk shop" and share support about their work as research administrators. The result: The Research Administration Discussion List (RESADM-L), run on L-Soft's LISTSERV email list software. Founded as a community for research administrators to discuss and decipher the complexities of applying for and administering government-funded research grants, today RESADM-L brings together about 3,000 professionals in this specialized and highly challenging field.
With a membership that includes research administrators and staff from universities, hospitals, and government and non-profit research labs, RESADM-L is still sponsored by the New York state non-profit, Health Research, Inc. (HRI) that founded it in 1993. This LISTSERV list serves as a real-time and real-world daily resource for its subscribers – and the results are real, too.
"We get lots of conversation these days regarding U.S. Government grant application sites, which experience difficulties when they're under heavy load. You need to get supporting paperwork uploaded to a government site by a specific time on a specific day or the application is discarded. As a result, our membership needs to get timely advice and information as to not affect their research money stream," says RESADM-L List Owner Mike Varney, whose work with HRI includes administering the list. "RESADM-L allows them to contact thousands of their peers in the industry to help them with their questions. The members are able to communicate to each other site statuses, workarounds and tech support messages they receive in a very quick time frame, making everyone's stress level drop."
List subscriber Janet Holmberg, Grants and Contracts Specialist with Lovelace Respiratory Research Institute, located in New Mexico, provides a tangible example: "The Research Administration LISTSERV list is an invaluable tool for me ... some concrete things I can mention are that I found my current job on the list. Also, last year, my organization's indirect cost rate increased by 7.5 percent. After posting a question on the list, I got information about the National Institutes of Health (NIH) process for cost reconsideration that led to a request from our finance office to NIH. That request was approved, which allowed us to obtain about $100,000 in additional funding from NIH to cover our increase in indirect costs for the current year and upcoming noncompeting renewals."
RESADM-L primarily serves research administrators in the United States, as the vast majority of the issues discussed relate to U.S. laws and policies. At press time, the list has 3,039 subscribers, and Varney states that this number continues to grow by about 1 percent every month. Varney extends an invitation to research grant administrators: "Join us! We have all 17+ years of list archives available, so if you're in the research administration field, that's quite a valuable way to get assistance in your career!"
The enthusiasm and appreciation of the list's membership is clear: "The Research Administration LISTSERV list has been a valuable tool in my professional development and career. It's a way to connect with 3,000+ research administrators instantly to receive answers to timely questions that arise every day in my office. Couldn't get along without the LISTSERV list," says subscriber Michael Wetherholt of Columbus State University in Georgia.
The contributions that RESADM-L has made to the evolving professional literature and to training and career development resources for research administrators have received special recognition. Subscribing to RESADM-L is noted as one of the most important things to do when seeking research administration certification; the email community is frequently mentioned in industry publications as a key resource; and List Owner Mike Varney earned a Distinguished Contribution to Research Administration award from the international trade association SRA, in 2008, in part because of his leadership of the RESADM-L LISTSERV list.
Varney notes that the list helps the entire research administration community – spanning government entities, academic institutions, private companies and associations – keep up with constantly changing policies and interpretations of policies, adding that the newer electronic methods for grant applications have created a dramatic increase in the need for the email community to pass along and work though technical issues. "Using email list technology allows conversations and issues to be pushed out to the community rather than necessitating the community to go out to the resources, such as a website or blog, by themselves. This allows the conversations to flow in a more timely manner. Additionally, interpretations of government policies in regards to grant funding are very popular. Sometimes people just need another opinion about a topic from an unbiased outside source," says Varney.
With the many accomplishments of RESADM-L, Varney shares some tips for list owners and people considering launching a professional email discussion community: "The key is word-of-mouth, or 'street cred': Nothing can drive your membership base better than being known as 'the place' to do X or talk about Y," Varney says. "Anyone can place an ad about a list and generate a brief spike in members. But to get the quality membership that would support a stable list base, you have to be a reliable site with timely conversation."
Varney adds that "The LISTSERV product makes running a mailing list easy; it's not as daunting as it may seem. It's an excellent way to keep in touch with your customers and peers. L-Soft has been great to work with. The licensing scheme is simple, and tech support is always easy to get in touch with. We rarely have technical issues with the software. The fact we still have all 17+ years of complete archives shows they are dedicated to making software that never suffers data loss and maintains archived data despite adding a significant number of features over the years."
List subscribers enthusiastically agree: "The RESADM list has been one of the greatest, most consistent and reliable resources in my work as a research administrator. The ability to ask experienced and knowledgeable colleagues elsewhere for advice and guidance, knowing there's always someone on the list who will respond promptly, and to search the archives later for information on such a wide array of issues is not only beneficial, but exceptional," says Sally J. Southwick, Ph.D., Director of Grants and Sponsored Research with Northern State University in South Dakota. "None of my friends in other professions has anything like RESADM-L as a resource, and many have expressed their amazement at how readily and generously members of the list assist each other. RESADM-L not only helps all of us do our jobs better and more effectively, but it also fosters networks across institutions (and time zones) and supports a sense of community among research administrators that strengthens the profession overall."
Read Additional RESADM-L Subscriber Quotes »
---
LISTSERV is a registered trademark licensed to L-Soft international, Inc.
See Guidelines for Proper Usage of the LISTSERV Trademark for more details.
All other trademarks, both marked and unmarked, are the property of their respective owners.