Case Studies: RedIRIS
LISTSERV Technical Innovation Award: RedIris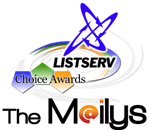 In 1995 RedIRIS of Spain (www.rediris.es) brought the concept of email lists to its network of 250 Spanish universities and research centers. RedIRIS chose to utilize L-Soft's LISTSERV® software for Unix after having experienced its capabilities on BITNET. The first list that RedIRIS created was a forum to discuss the INGRES database for the OpenVMS operating system. LISTSERV quickly became an essential tool, and today the RedIRIS email site has approximately 500 lists of scientific nature and 70 lists used to coordinate the technical department. All in all the total subscriptions go beyond 100,000 email addresses.
"From the very beginning LISTSERV was the best choice for the distribution and exchange of information," says Jesús Sanz de las Heras, Email Service Coordinator for RedIRIS. "L-Soft's experience and respect to Internet standards as well as the flexibility of the software allowed us to design a high-quality service using something as simple and easy as email. Many ideas were put into effect in very little time: virtual communities, massive distribution channels, management of working groups, and online courses and meetings."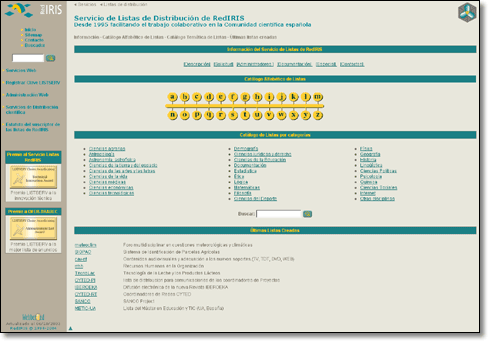 One of the most exciting developments of the LISTSERV site was the translation of the Web interface into Spanish, which enabled RedIRIS to expand its reach all the way to Latin America. This exposure produced an active collaboration with Latin American scientists who now manage several RedIRIS email lists. According to Jesús Sanz de las Heras, LISTSERV made the changes to the site effortless. "We took advantage of the flexibility of the software to translate and customize the pages of the Web interface. I have to emphasize how important the impact of this has been; fifty percent of our subscribers are in Spain, but twenty percent are based in Latin America."
The lists are personalized and adjust to the needs of the subscribers, who are mostly scientists. From the beginning RedIRIS has maintained two strict guidelines for starting a list on its network: The owner must be affiliated with a Spanish university, and the theme of the list must be scientific in nature. Its most popular distribution lists are OFER-TRABEC (announcing job offers and scholarships, also the winner of L-Soft's Announcement List Award), DISEVEN (informing its audience about academic events) and HISPANUS (profiling legal aspects of Spain). The most widely used discussion lists are IWETEL, a forum for librarians and archivists that numbers 5,000 subscribers; and ARRITMIAS, a medical list of 2,000 members moderated by an Argentinean expert.
"LISTSERV is very trustworthy, robust and rarely gives us any problems," says Jesús Sanz de las Heras. "As mentioned before, the flexibility of the Web interface for list management and archives has been the most helpful feature by far."
---
LISTSERV is a registered trademark licensed to L-Soft international, Inc.
See Guidelines for Proper Usage of the LISTSERV Trademark for more details.
All other trademarks, both marked and unmarked, are the property of their respective owners.