Case Studies: MENOPAUS
LISTSERV Choice Awards Honorable Mention: MENOPAUS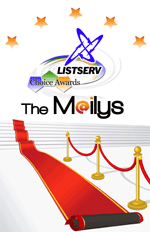 From one woman's search for information and support about menopause, a LISTSERV list was born. Out of the discussion on the Menopaus email list, an expanded list of symptoms that is widely referenced today emerged.
"The Menopaus email list was started in July 1993 because I wanted more information about what was going on with my own body. I knew some of the answers my gynecologist gave me were inaccurate and incomplete. I wanted to know more. I'd been using other lists to gather information and went looking for one that dealt specifically with menopause, and didn't find any. What I did find were dozens of women begging me to let them know if I did find such a list, so the need was very obvious," says founder and list owner Judy Bayliss.
The Menopaus Email Support Group, one of numerous lists hosted by the Information Center for Online Resources and Services, Inc. (ICORS), is described as a community for women seeking discussion and support of perimenopause, menopause and post-menopause, remedies and solutions, and personal experiences related to menopause and other women's health issues. Bayliss describes the evolution of the list: "The original purpose was to seek information and share personal experiences from the women who were living it, not the sparse information the medical community gave us ... We wanted to know, and we wanted to take responsibility for our bodies and our knowledge about them."
Bayliss adds that soon after the Menopaus list began, the email discussion led to a group of Menopaus list subscribers collectively deciding to research symptoms and rule out anything that wasn't cyclical in nature and/or didn't respond to hormonal or other menopause/perimenopause treatments. "We ended up with the list of 35 symptoms – a far cry from just the insomnia, hot flashes and loss of libido that our doctors had told us. Then our purpose became getting the word out: We each printed the symptoms in a format that would fit on a 5-by-7-inch card and handed them out to friends, doctors, nurses and any other caregiver we came in contact with. Today that list of symptoms is still in use by many medical websites. The word is out!"
The accomplishments of the Menopaus email support group are tangible, with highlights Bayliss provides including:
1. Many thousands of women now have ready access to information about menopause and perimenopause.
2. We have steered dozens – if not hundreds – of women away from the most commonly performed unnecessary surgery: hysterectomy.
3. We have alerted women when their symptoms should be checked out by a doctor.
4. There have been at least two women who communicated that they were contemplating suicide because they thought they were losing their minds, when in reality, it was the effects of menopause.
5. There have been countless women we've referred to specialized agencies and resources for their conditions that they otherwise wouldn't have accessed.
Bayliss notes that the list membership has dropped considerably in the past few years: Currently there are about 257 subscribers; 10 years ago there were over 1,000. But this is actually good news: "Due to the fact that we helped get the word out what all the various symptoms of menopause and perimenopause are, we've helped bring menopause out of the closet and into public discussion. The list has done its job." She adds that there is now a great deal of information easily available that, unlike the earlier days of the list's development. It is now rare to hear from women desperate to find out "what's wrong" with them. The discussion and support offered by the Menopaus list has reached beyond the United States to subscribers in Italy, Turkey, Ireland, England, Canada, Honduras, Brazil and other nations.
"We are women helping other women: We're there for each other no matter what kind of help any one of us might need, whether it's menopause related or not," says Bayliss. "We truly care about each other even though most of us have never met in person. There is a strong sense of camaraderie, of sisterhood. We do our best to keep things on an even keel and diffuse what looks like a touchy conversation. It's seldom necessary though, we have a lot of respect for each other."
"LISTSERV is the only platform the list has ever been on, and I've had no problems with it. It does the job, and I love it ... it has become SO much more user-friendly in the past few years," Bayliss says.
The tips Bayliss shares for people interested in starting an email discussion and support community such as the Menopaus LISTSERV list include:
Know what your purpose is.
Outline the scope of what the list will and won't cover.
Set definite rules of behavior for the subscribers and adhere to them, but be flexible when the situation would be better handled in a different way.
Be willing to grow and learn from your members. The members are what makes the group.
Of the Honorable Mention Award that the Menopaus Email Support Group received from L-Soft, Bayliss says: "We're very proud!"
---
LISTSERV is a registered trademark licensed to L-Soft international, Inc.
See Guidelines for Proper Usage of the LISTSERV Trademark for more details.
All other trademarks, both marked and unmarked, are the property of their respective owners.