Section 1
Introduction
Section 2
The Maestro Interface
Section 3
Defining a Job
Section 4
Defining Recipients
Section 5
Defining Content
Section 6
Defining Tracking
Section 7
Sender and Delivery Options
Section 8
Outbox
Section 9
Delivered Jobs
Section 10
Reporting and Statistics
10.1.1 Adding a Data Source
10.1.1 Adding a Data Source Continued
10.1.2 Result Settings Continued
10.2 Executing Reports Continued
Section 11
User Settings
Appendix A
24 Hour Clock
Appendix B
International Character Sets
Appendix C
Comma Separated Files
Appendix D
AOL Rich Text
Section 10.1.1 Adding Data Sources
Adding a Data Source is a multi-step process that has to be repeated for each separate variable in the report. In the screen capture below, there are seven different variables that will be plotted on the report, so the data source wizard was engaged seven times to record each one. To begin defining a data source, click on the Data Sources tab from the Define Report Screen. See figure 57.

Data Source Description – Lists the defined data sources available for use in a report. Click on the title of the data source to open the data source wizard and edit the selections. Click on the copy link to make a copy of the data source. Click on the delete link to delete the data source.
Add Data Source – Opens the data source wizard, a series of screens that leads the user through the process of creating or editing a data source.
Figure 58 Define Report Screen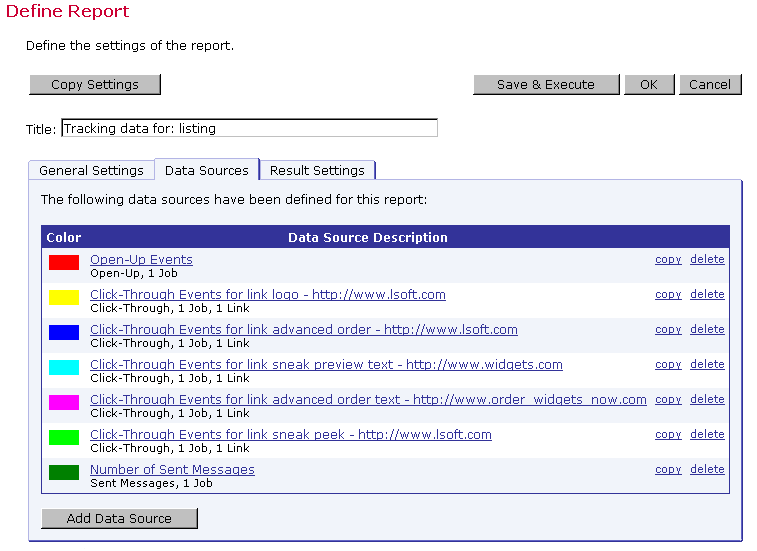 There are five screens to the data source wizard:
Type – Defines the type of event to report on.
Jobs – Defines which job or jobs those events are from.
Links – Defines which URLs to include from click-through events.
General – Defines the color for the data source.
Summary – Displays a summary of the selections for the newly defined data source
The first screen of the wizard defines the data source type. Select the type of tracking event: Open-Up or Click-Through. Or, select one of the three "Sent Messages and Bounce Count Statistics" options to be the data source type.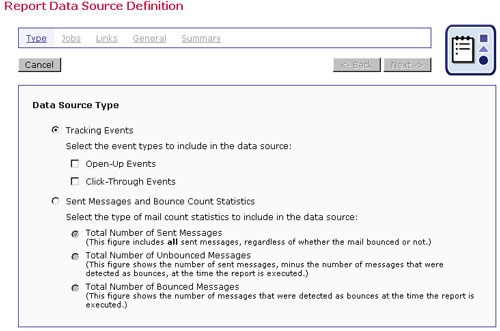 Click Next -> to continue.