Section 1
Introduction
Section 2
The Maestro Interface
Section 3
Defining a Job
Section 4
Defining Recipients
Section 5
Defining Content
Section 6
Defining Tracking
Section 7
Sender and Delivery Options
Section 8
Outbox
Section 9
Delivered Jobs
9.2 Delivered Jobs Reports Continued
Section 10
Reporting and Statistics
Section 11
User Settings
Appendix A
24 Hour Clock
Appendix B
International Character Sets
Appendix C
Comma Separated Files
Appendix D
AOL Rich Text
Delivered Jobs is a listing of all the e-mail jobs that have attempted delivery and the present state they are in - processed successfully or failed during delivery. Click the Job ID to see a display of detailed information on the job. The "Delivered Job Details" screen is composed of two tabbed pages, "Summary" and "Reports". The Summary screen lists details for the selected job. The Reports screen contains options and links to generate a "quick report" on the selected job.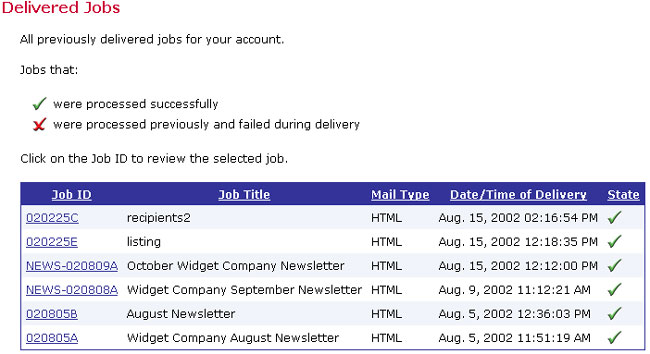 It should be noted that a job might be processed successfully but still fail to be delivered. The processing state only describes the success or failure of the act of transferring the job to LISTSERV®. If LISTSERV then for some reason fails to actually deliver the job, no messages will be sent, but the job will still be in the "successful" state inside of LISTSERV® Maestro. For example, if a job is sent to a LISTSERV list with the "Standard list submit" option and using a sender address that is not authorized to post to the list, the job will be successful, but LISTSERV sends an error message to the non-authorized e-mail address, and no messages to recipients are actually delivered.

If a user suspects that a job that is shown as "successful" was actually never sent – for example, because recipients report that they never got the message – then L-Soft recommends that the system administrator check the LISTSERV logs to find out what happened to the job.
The Summary tab of the Delivered Jobs Details screen displays information about the delivered job. Click on the View link adjacent to a property to see more information on that particular property. Two additional links are available here, one to update the bounce count and one to download the addresses of bounced messages. Click Delete Job to permanently delete the job. Click Team Collaboration to change the team collaboration settings for the job.
Figure 49 Delivered Jobs Summary