Section 1
Introduction
Section 2
The Maestro Interface
Section 3
Defining a Job
Section 4
Defining Recipients
Section 5
Defining Content
Section 6
Defining Tracking
Section 7
Sender and Delivery Options
Section 8
Outbox
9.2 Delivered Jobs Reports
9.2 Delivered Jobs Reports Continued
Section 10
Reporting and Statistics
Section 11
User Settings
Appendix A
24 Hour Clock
Appendix B
International Character Sets
Appendix C
Comma Separated Files
Appendix D
AOL Rich Text
Click on the reports tab to generate a "Quick Report" on the current job (as long as tracking has been switched on for the job in question). "Quick Reports" are predefined report types that create a temporary report based on the selected report settings and the active e-mail job.
Figure 50 Delivered Jobs Quick Reports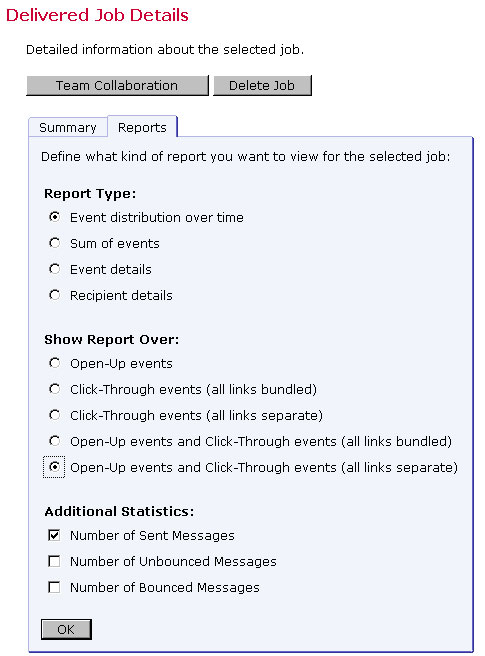 Creating a quick report is a multi-step process. First, select the type of report to create. LISTSERV Maestro can produce four basic types of reports depending on the type of recipients and recipient data used in the job:
Click OK to save the column selections and return to the Recipients Details report screen.