First, let me start with some of the main findings of the survey. We asked what you thought about the quantity of articles in the newsletter. A clear majority, 61%, said we are providing the right number of articles. Only one percent said there were too many articles, and 14% percent said there are too few articles in the newsletter. Twenty-three percent had no opinion on the matter.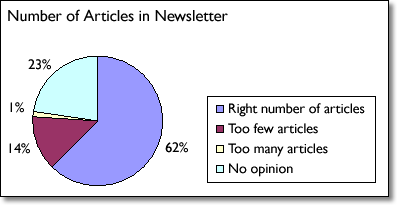 One of the most encouraging findings is the fact that a majority of you find five of the six different sections of the newsletter either "interesting" or "very interesting". For example, 86% have responded that the Tech Tip section is interesting (34 %) or very interesting (52%). Of the six sections we asked about, only one was given a rating below 50% (the Upcoming Events section).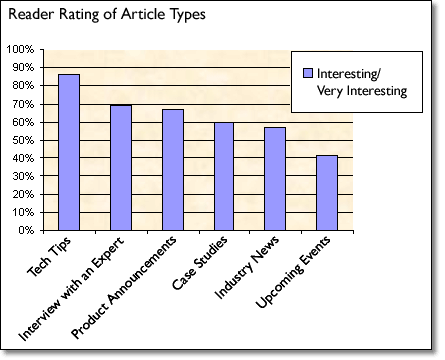 We have learned that for many of you the newsletter is one of the prime sources for information on L-Soft, and you use our newsletter to learn how to better use our solutions. More than a third of you said your view of L-Soft has generally improved by reading the newsletter. We appreciate this response, and it serves to remind us how important it is to deliver high-quality content continually.
Based on the survey findings and our commitment to providing valuable content, L-Soft will introduce the following new features and changes in 2005:
Beginning this summer the frequency of LISTSERV at Work will increase (today it's a quarterly newsletter). You will receive fresher content and more information about L-Soft and our products. We will keep you better informed about news and events at L-Soft and the industry.
Each issue will now provide two Tech Tip articles. The Tech Tip section is by far the most popular feature of the newsletter, and we will expand this section based on your survey responses.
A new feedback section will be included in each newsletter. This new feature will allow you to send us comments immediately about things we have covered in the newsletter or suggest ideas for future issues.
If you have ideas on how L-Soft can further improve the newsletter, let us know. Submit your comments using the brand new feedback form introduced in this issue.