Millennials and Email – The Voices (Part 1)
Interviewing millennials in-depth and in-person earlier this month gave a first-hand glimpse into how they interact with email and the big role that it actually plays in the daily academic, professional and personal worlds of their generation.
---
Thomas Cook, Undergraduate Mechanical Engineering Student, Class of 2016
"I read all my email on my phone but don't like sending email from my phone. Unless it's a very quick message, I send email from my laptop because of screen size and, sitting at a computer, it's a lot easier for me to focus and hone in and make sure I hit each point in my email. I sit down and mentally prepare a little bit."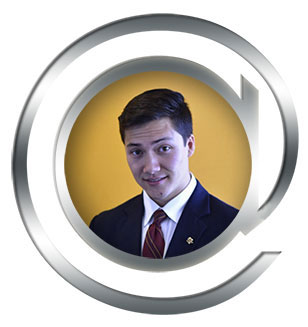 Early email experiences:
"In 7th grade, age 12, I made an email account that I never used and then started using it legit as junior in high school, applying for colleges, signing up for soccer and snowboarding newsletters, creating logins. In college, it's mechanical engineering lists for all undergrads and for senior class and Canvas, a portal for all my classes, which has notifications through email.
I started sending emails for my fraternity second semester, freshman year – the emails were casual, social. Now, being on the executive board of the Interfraternity Council (IFC), I created a sexual assault prevention program and send email to sign up new members and give dates and times of events. We don't use Facebook or Twitter for this – it's not really necessary because the program is a requirement. All 2000 frat guys – I'm in charge of keeping them in check. It's not an easy job, but it keeps me on my toes.
It's great to have a mail server I can use to receive and send important info. It helps me a lot, and if I didn't have that, I don't know how I would send it. Copying and pasting addresses one by one is just too much. I'm also on four other professional email groups, for all IFC presidents in the state, all fraternity presidents on campus, IFC advisors and staff; and, Maryland Greek organization presidents.
Being in these positions and needing to use email and getting the practice of using email has been very helpful to make sure the emails I'm sending are professional."
Thoughts on email vs. newer social channels:
"Between peers, I use Facebook or text – they're a little more instant than email because of checking Facebook little more often. Email's an important tool but more of a business tool."
---
Lucy Zhao, Undergraduate Accounting Student, Class of 2015
"I like getting on email lists, so I can go to major-related events. Without it I wouldn't know about those events and couldn't catch those opportunities."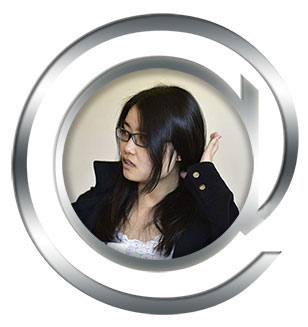 Early email experiences:
"When I was in China, I didn't use email. But I started using it for sending emails to the U.S. to request materials for college applications. For me email is very convenient. I was in China, but it was a way to communicate with people in the U.S. My English wasn't the best at the time, not so good for phone calls. Email is the best way to connect with people.
In college, I go to a lot of campus events and sign up for the lists so they can send me updates on upcoming events. I get the most current information. That's very helpful. For example, the Accounting Business Association had an event with big firms. For the Ascend non-profit business association on campus, I use email to send text announcements and HTML newsletters and fliers."
Thoughts on email vs. newer social channels:
"Email is a more formal way to communicate with people, and you always have a specific thing to discuss. One drawback is having to wait for a reply. For social media like Twitter, Facebook and Instagram, you want to share your own lifestyle and events you have been to, books or news you've read recently, and have an informal discussion with people about what's happening in your life. Each of them is useful, just in different perspectives."
---
Eric Sullivan, 2012 College Graduate, Correctional Officer, Baltimore County, MD
"Email isn't going anywhere, and I don't think there's another medium now that can be used as efficiently as email. Email has a deeper and much more important quality."
Early email experiences:
"I first used email around age 7 when I opened an AOL account to be able to IM with friends. I started to use the more technical features of email in high school, with teachers emailing assignments, and used online portal or email access to see homework and grades.
In college, my email account was my login to just about everything – email about classes, administration's updates, sports updates, emergency situations like shelter in place, confirming work hours for my job.
Professionally, I use several email lists every day. It's very important because a lot of my email is about security issues, someone who has assaulted staff, what needs to be locked down. Email in the professional world is just invaluable. There's so much information that's real-time and need-to-know in my world for safety or, for others, for monetary reasons, and it needs to be acted on in a timely manner.
Personally, it would be a struggle to find other avenues of communication that are similar, and there would be withdrawal for me because, with email, I keep in touch with people I wouldn't be able to otherwise. Email is primary and backup is usually text or phone, and next backup is snail mail."
---
Varun Verma, 2015 Master's Candidate, Information Systems
"Email cannot be replaced because, even though we have live chat, email is formal yet can be used for informal things. For job offers or academic programs, people can't just ping you. They email, and you have it for your records. When it comes to written communication, I would say email is here for a long time to stay."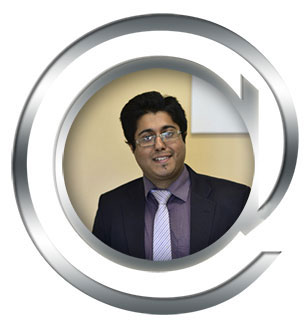 Early email experiences:
"I first set up a Yahoo! email account in 1996 while in 8th grade but didn't really use it. Email was a big thing. The idea of being able to send a message instantly – while postcards and regular mail were still being used a lot – really interested me.
In high school, I got online at an Internet cafe In Bhopal, India, but it was a slow dial-up connection of just 128 Kbps. In college, I started sending friendly emails, like wishing someone a happy birthday long distance and sending photos. Closer to college graduation was my job search, so I created a Gmail account, which had a faster and more effective interface.
After college I used email 100 percent, interacting with clients in my job at Infosys. We used Outlook email for the project support, development and testing teams. I got 100-200 messages daily from support tickets, so I used automated filtering rules to create separate folders for support tickets vs email from supervisors. It helped with time management to make full use of email's functionality.
Then, for my Master's program applications, it was very important because you have to know which email to respond to, and when. As a student in business school, I'm also VP of External Relations for the Information Systems Community. Half of my day goes to email. I'm tracking my mail all the time on my laptop because it's a part of my schoolwork as well as my job – assignments, events, trip signups and more.
With my friends in India is where email comes to its highest use. I send nice messages and photos of some memories. Nice personalized messages are valuable, and the person can keep them. If calls don't work out, you can drop them an email, and it's in their inbox."
Additional Reading
Millennials and Email – The Numbers
LISTSERV at Work - Issue 4, 2015
Millennials and Email – The Voices (Part 2)
LISTSERV at Work - Issue 1, 2016
Subscribe to LISTSERV at Work.