In Control: What Evolving Webmail Means for Senders
The three most popular web-based email services have been busy in recent months. By streamlining their interfaces, upgrading existing functions, integrating additional services (such as voice-over-IP and social media connections) and providing mobile access, usability has been greatly improved. Better spam handling and categorizing of incoming messages have also been added to help users keep their inboxes under control.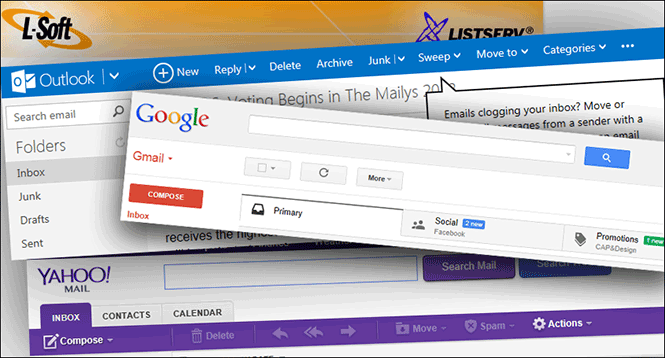 Control of the Inbox
Google launched a tabbed Gmail inbox. It filters incoming messages under five different content categories: Primary, Social, Promotions, Updates and Forums. Microsoft's Outlook.com also offers functions to automate the inbox. For example, the set of sweep functions includes: Move, Delete, Unsubscribe and Schedule Clean-Ups. Earlier this year, Yahoo! Mail introduced a new interface and announced that it will recycle old dormant accounts. It is now possible to create a watch list for Yahoo user names. As these new functions emerge, they change the behavior of subscribers and recipients, so there are implications for us, as email senders, too. The key is to monitor email performance and see if the email metrics change significantly for the better or the worse.
Relationships and Relevant Messages
When our messages are expected, relevant and interesting and there is prior permission and an existing sender-recipient relationship, the recipient is likely to find and filter the messages to a preferred tab, folder or inbox for reading. It can be effective to read the messages in the right context, e.g. promotions in the Promotions tab and unique one-to-one messages like friends or delivery confirmations in the Primary tab. Then the recipient is in the mindset of reading specific types of content. Also, Gmail recipients can change the category filtering easily by dragging a message to a preferred tab, or turn the tabs off altogether.
When preferences change, it is very important to have a clear, visible and working unsubscribe function at the end of each message. This helps subscribers leave the list properly instead of blocking or filtering future messages as spam, or letting the web-based email service do so on behalf of subscribers.
Ask your subscribers to add your sender email address to their address book and explain the benefits. When the messages are essential and interesting, the recipient is happy to read them in a regular or tabbed inbox instead of finding them in a junk or spam folder as false-positives.
Email as a New Hub
The interest in the new web inboxes show how central email is today. Web-based email services provide a hub that integrates with instant message, voice, video, social media, calendars, file drives, search, photo and other applications. Email stays modern, strong and viable, provided that each recipient feels in control over his or her messages and inbox, and provided that we, as senders, respect permission, preferences and quality with every message. It is good to see web email evolve and integrate well with other online communication tools. Improvements in web-based email inboxes are likely to make recipients even more active and efficient in their email habits.
Measure Email Performance
To monitor and measure how your email list subscribers in the different web-based inboxes respond to your messages, add the Maestro module and its email reports to your existing LISTSERV on-premise installation or LISTSERV cloud service.
Everyone has email. If you have yet to take advantage of the email opportunities in your organization, contact our sales representatives to discuss what you can do and how we can help.
---
Subscribe to LISTSERV at Work.