Keynote Presentation: The Evolution of E-Mail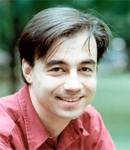 In 1985, Eric Thomas discovered a new passion: the Internet. Since then, he has played an active role in the development of the Internet in Europe. In 1986, he wrote the first version of LISTSERV® in Paris, France. LISTSERV was the first software product developed for the management of e-mail lists. At the time, Europe and the United States were connected by two links with a capacity of 9.6 kbps each, and it could take days for e-mail to reach across the Atlantic Ocean.
Eric graduated in 1988 and moved to CERN in Switzerland (where the web was invented), then to Stockholm, Sweden in 1990, where he was hired by SUNET to help build a computer network whose ambition was to make Sweden the leading IT nation in Europe in spite of the country's small size (8 million inhabitants) and unpopular climate.
Technology has progressed since those days. Today we expect large attachments and digital photographs to reach the receiver in a few seconds. We worry about viruses and spam. We debate "opt-in" versus "opt-out". E-mail has developed and become more complex. In fact, e-mail has become the most popular Internet activity. Who would have thought back in 1986 that Eric's software would handle 150 million e-mail list subscriptions today? In the '90s, Eric founded L-Soft and closely followed the development of e-mail technology. In this presentation, he shares his view on the challenges and the meaningful changes that have taken place since the Internet boom. Eric explains the evolution of e-mail and presents his views on what the future of e-mail will hold.
View a translation of the presentation in English (Requires Macromedia Flash Plugin)
View the original presentation in Swedish (Requires Macromedia Flash Plugin)
Eric Thomas is the founder and CEO of L-Soft, premier provider of e-mail list communication solutions for the management of personalized direct e-mail marketing, e-mail newsletters and discussion groups.