Top Five Reasons to Get LISTSERV 17.0 and How to Upgrade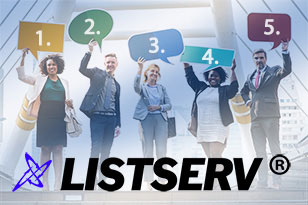 LISTSERV 17.0, released today, launches a new era for email lists in our increasingly mobile communication environment. We hope that you'll take advantage of the new features of LISTSERV 17.0 to benefit your organization and subscribers with forums, blogs, newsletters and more.
Here are the top five reasons to upgrade to LISTSERV 17.0:
1. A central hub with integrated email, web and database communication allows you to interact with your audiences in the most meaningful way.
Save time, money and hassles with a truly integrated solution that enables you to keep your subscribers loyal and active with highly relevant content in formats including email groups, online forums, blogs, newsletters, announcements and more. Now you can use a single tool to connect with people and build community.
2. A broader reach for your messages and a more convenient experience for your subscribers is now a reality.
Experience the redesigned and fully responsive web interface. Now you can manage your LISTSERV site and email lists on any device, including tablets and mobile phones, while your subscribers can view and interact with your messages anytime, on any screen.
3. A goldmine of knowledge is available to your subscribers, on their terms.
Treat yourself and your subscribers to a continuous and tailored information flow experience. The new seamless list archives offer three options for smooth reading, so you and your subscribers can choose your preferred mode: classic, forum and blog view.
4. The results that come with attractive, responsive HTML newsletters and announcement are yours to enjoy.
Activate your subscribers with eye-catching and fully responsive HTML newsletters and announcements, no coding experience needed. The newsletter template builder comes with more than 75 ready-to-use templates, offering a variety of layout styles and color schemes that you can use as-is or modify to your specifications.
5. Boosting your organization's brand with customization is easier than ever.
Tailor the appearance of the web interface and list archives to reflect your organization's brand and graphic profile in a few simple steps. The new site customization feature allows you to customize the web interface through pulldown menus and input boxes with no HTML or CSS coding.
For more details about LISTSERV 17.0, visit:
http://www.lsoft.com/products/listserv_170.asp
For step-by-step instructions on how to upgrade, visit:
http://www.lsoft.com/products/listserv_upgrade_center.asp
Subscribe to LISTSERV at Work.