Get a Free Tech Check from L-Soft Technical Support
New Support Service Ensures Your LISTSERV or LISTSERV Maestro Solutions are Configured for Optimal Performance
---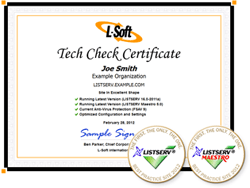 Did your LISTSERV or LISTSERV Maestro site have its check-up yet? L-Soft offers a new complimentary annual Tech Check for customers with current maintenance and support. Your Tech Check is a great way to be certain that you are using email best practices, the latest version of the software and that all your systems are configured for optimal performance.
The Annual L-Soft Tech Check is:
A brief phone conversation with one of L-Soft's experienced support engineers, covering a few quick questions regarding your use of L-Soft's software and any recent interactions with L-Soft Technical Support as well as any questions you may have
Free and completely confidential
An opportunity to receive expert advice from L-Soft Technical Support on how to make sure the L-Soft email list solutions you are currently running can give you the best possible results
Mid-way through each eligible customer's support agreement term, L-Soft contacts each customer via email to schedule the annual complimentary Tech Check. Customers are also welcome to request a free Tech Check each year. So if your site hasn't already had a Tech Check, simply request one at:

http://www.lsoft.com/resources/tuneup.asp
Every customer whose Tech Check shows that the configuration, settings, version and email best practices are in good shape will receive a special certificate and a web logo recognizing their LISTSERV or LISTSERV Maestro site.
L-Soft's technical support experts look forward to working with you to help you maintain and strengthen your email list communication systems for optimal performance and best results.
---
Subscribe to LISTSERV at Work.