LISTSERV in the Cloud: Spotlight on ListPlex
---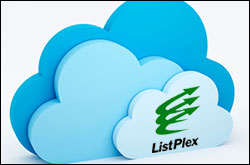 Did you know that LISTSERV has been available as a hosted service since 1995 and in the cloud since 1997, long before the buzzwords "cloud computing" and "software as a service" existed? L-Soft has provided basic shared-server hosting for email lists since 1995, beginning with EASE, and dedicated virtual server hosting with the introduction of ListPlex in 1997.
The Cloud: What's in a name?
Consistent with their moniker, cloud computing services come in many different shapes and sizes and offer software applications delivered as a service over a connected network, rather than installed and operated on a customer's own machine. The service provider takes care of application and infrastructure maintenance, software and hardware operations, data storage, traffic and related tasks. Customers access their desired applications over the Internet smoothly and conveniently, typically via their web browser.
ListPlex Quick Facts
Unlike the shared EASE servers, the ListPlex service offers customers a dedicated virtual LISTSERV instance, using the customer's own domain name, yet running in one of L-Soft's two data centers, one in the United States and one in Europe.
The site-level web interface customization offered by ListPlex provides a seamless connection with the customer's existing brand and web presence.
With ListPlex, customers always have access to the latest LISTSERV version and features delivered as a service. L-Soft also takes care of all deliverability and IP-reputation management issues for the customer.
ListPlex is flexible, enabling wide use and broad benefits within any organization. A large number of lists can be created to suit many different needs, including a mix of public and private lists. With the Maestro add-on, ListPlex becomes a complete cloud-based email marketing and analytics system, ListPlex Maestro.
Why ListPlex?
ListPlex is a professional system for any organization to communicate and collaborate, both internally and externally with their customers, members and stakeholders.
ListPlex is becoming more and more popular as an alternative to in-house LISTSERV licensing because it enables customers to use the industry pioneering LISTSERV software without the internal infrastructure and staffing requirements.
L-Soft is seeing growth in the popularity of ListPlex, among both new customers and customers who already run LISTSERV in-house. Some reasons for this include the cloud trend and budget concerns on the radar for many companies and organizations.
Even for customers running LISTSERV in-house, many find that purchasing one ListPlex virtual server node is a great investment to provide an externally hosted emergency email notification system at a low annual service rate.
ListPlex Special Academic Offer
Recently, universities, which have traditionally run LISTSERV software on site with their own technical staff, have become increasingly interested in transitioning their email lists to the ListPlex hosting service. Thousands of academic discussion lists already run on the ListPlex service. As part of the ListPlex 15th anniversary, we are offering universities and other academic organizations a special migration package with 90 percent savings on delivery fees.
L-Soft is constantly developing the ListPlex service to meet customers' needs. Please contact one of our sales representatives to find out how organizations similar to yours are using ListPlex. Discover the benefits of LISTSERV in the cloud with ListPlex.
---
Subscribe to LISTSERV at Work.