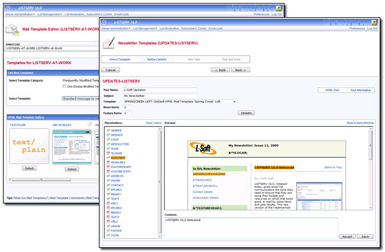 On December 10, 2009, L-Soft announced the release of LISTSERV 16.0, featuring a newsletter template system, complete with a gallery of pre-designed HTML templates for both newsletters and administrative messages, and of course an HTML editor. LISTSERV 16.0 also introduces UTF-8 support, message scheduling, content analysis, CSV reports, and RSS abstract previews. A new feature that is extremely popular among discussion list owners is the improved non-MIME digest format. Finally, LISTSERV now supports Solaris x64 and Windows x64.

If you are among the first to upgrade to LISTSERV 16.0, you can reserve a free first mover T-shirt.
NEW IN LISTSERV 16.0
LISTSERV 16.0 DEMO
PRESS RELEASE
GET T-SHIRT

More than 90,000 people the world over who face illness, disability, family issues and other challenges are getting the message, literally, that they are not alone thanks to LISTSERV email lists run by ICORS. In honor of ICORS' life-changing use of email lists to help people in need, L-Soft awarded ICORS the grand prize in its annual LISTSERV Choice Awards competition. Read more about how ICORS puts life-changing information and support into people's hands in this case study.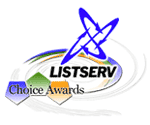 Nominations are now open for the 2009-10 LISTSERV Choice Awards. The LISTSERV Choice Awards is a worldwide recognition program for email list communication excellence. Now in its fifth year, the LISTSERV Choice Awards honor the most successful, beneficial and exemplary usage of email lists. All types of lists are eligible to participate, including newsletters, discussion lists, announcement lists and email marketing campaigns, provided that LISTSERV or LISTSERV Maestro technology is used.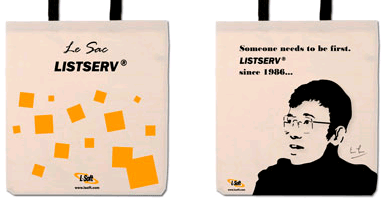 The LISTSERV community voted for their favorite tote bag designs. Now, to receive your own exclusive LISTSERV tote bag, all you need to do is to tell us – in at least 15 words – why you like LISTSERV.

Q: What is 'backscatter' and why should I worry about it as a LISTSERV Site Administrator?
Answer by Ben Parker
Chief Corporate Consultant, L-Soft
Backscatter email (also known as outscatter, misdirected bounces, blowback or collateral spam) is a side-effect of email spam, viruses and worms, where a LISTSERV server receives spam and bogus command emails and sends acknowledgement or rejection messages to an innocent party's email address. This occurs because the From: address in the original message to LISTSERV is forged to contain the email address of the victim. Since these messages coming back from LISTSERV were not solicited by the recipients, are substantially similar to each other, and are delivered in bulk quantities, they may be treated as unsolicited bulk email or spam. As such, LISTSERV systems that generate email backscatter can end up being blacklisted, which negatively affects your server's email reputation and reduces your deliverability of (wanted) list email.

Q: How Can I Reduce the Number of Completed Jobs Stored in LISTSERV Maestro?
Answer by Liam Kelly
Senior Consulting Analyst, L-Soft
For sites that use LISTSERV Maestro heavily, the list of completed jobs in Maestro can grow to the point where the system database becomes undesirably large and the user interface functions begin to slow down. This usually means that it's time to do some archiving of old jobs and to set up auto-archiving to prevent such database bloat in the future.