LISTSERV Choice Awards Grand Prize Winner: ICORS
---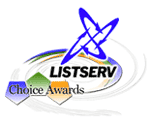 An L-Soft jury led by Founder and CEO Eric Thomas has selected ICORS to receive the Grand Prize in the 2008-09 competition. ICORS is a non-profit, all volunteer, 501(c)(3) charity dedicated to assisting individuals and groups that offer support, information and community to people in need, including individuals affected by disability, family issues, health issues and other similar needs. ICORS accomplishes its mission by providing technical assistance and services to list owners at hundreds of health and social service organizations to support the organizations' work with individuals in need.

"We are deeply happy to see that the efforts of all of our wonderful, dedicated list owners have been recognized by those outside of ICORS. Everyone on the ICORS team works hard to provide any needed support so that thousands can be assisted. This award will enable us to reach many more people affected by disability, health or family issues who are looking for support, information and community. We saw that during the voting. People who came to vote for other lists noticed ICORS and ended up subscribing to our lists. We are very grateful for the opportunity to reach more people, and thank L-Soft for providing us with the means to do so. We also want to thank everyone who took the time to vote, and vote, and vote for us."
– Founders and Directors of ICORS: Jasper van Beusekom, Karen Reznek, Cynthia Teeters and Tom Rawson
The first year to introduce public voting to determine three finalists, this year's contest votes placed ICORS, WORLDWIDEWORDS and IWMF-TALK in the final running for the award. The L-Soft jury then determined the grand prize winner. All of these outstanding lists deserve commendation for the excellent service they provide to their dedicated subscriberships.