---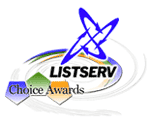 Less than a month remains in the 2008-09 LISTSERV Choice Awards, and the levels of participation and enthusiasm have been strong. There is an outstanding and diverse group of 10 nominated lists, in alphabetical order:
CELIAC: Celiac/Coeliac Wheat/Gluten-Free List
DRS: Dead Runners Society
GISTSUPPORT: Gastrointestinal Stromal Tumor Support Group
GUAIGROUP: Guaifenesin Protocol/Fibromyalgia Treatment
GUNROOM: The Patrick O'Brian List of the World
ICORS: Information Center for Online Resources and Services, Inc.
ISEN-ASTC: Informal Science Education Network, Association of Science-Technology Centers
IWMF-TALK: International Waldenstrom's Macroglobulinemia Foundation TalkList
OPERA-L: The Opera List
WORLDWIDEWORDS: World Wide Words Newsletter
L-Soft thanks everyone who has submitted nominations and votes to date. Congratulations to our most recent group of list nominators – representing CELIAC, GUNROOM, ICORS, IWMF-TALK, and OPERA-L – whose names were drawn and who will soon be receiving L-Soft t-shirts and/or promotional items.
At press time, the three lists with the highest vote totals, in alphabetical order, are ICORS, IWMF-TALK and WORLDWIDEWORDS.
Here is a quick recap of the voting rules:
Polls close April 1, 2009, at 6 p.m. Central European Time.
You may vote once every 24 hours.
After voting, you will be locked out from voting again (on the computer you voted from) for 24 hours.
The voting consists of separate monthly contests. Counters will be reset at the beginning of each month.
L-Soft reserves the right to close some or all polls earlier than the posted end date.
The top three finalists will be announced Spring 2009.
Final vote tabulations will be made after the public voting concludes on April 1. At that point, L-Soft will announce the three finalists with the highest number of votes. Then, the L-Soft jury and L-Soft Founder and CEO Eric Thomas will select the grand prize winner from the three finalists that received the highest number of votes. The L-Soft jury will judge the finalists and select a winner based on its determination of the most successful and beneficial email list or email marketing campaign. The decision of the jury is final. Stay tuned to L-Soft's LISTSERV at Work newsletter in the summer or fall of 2009, when we anticipate announcing the grand prize winner.
For more information about the LISTSERV Choice Awards, visit:
Overview | Rules | FAQ | Nominations | Voting