Section 1 Introduction to LISTSERV Maestro 2.1
Designed specifically to work with LISTSERV 14.4 (or later), LISTSERV Maestro allows users to collect and store recipient data so it can be used to easily create and send personalized email messages. All interaction with LISTSERV Maestro takes place using an intuitive Web interface. Incorporated into the powerful tool is a tracking component that can collect data when a recipient opens an email message or clicks on a URL contained within the message.
The LISTSERV Maestro program is comprised of three components that work together:
· The Administration Hub – Controls all user and program settings. The HUB is the central component that stores registry and account information. It is accessed both by the Maestro User Interface and by Maestro Tracker to store and retrieve settings. It has its own administrator user interface.
· The Maestro User Interface – The actual user interface. Individuals and groups use it to create and distribute customized email messages. It is also used to access, view, and download the collected tracking data, and to manage the Recipients Warehouse.
· The Maestro Tracker – Receives and compiles tracking data from delivered email messages.
In addition to LISTSERV Maestro's three components, LISTSERV Maestro also relies on the existence of an installation of LISTSERV® 14.4 (or later).
LISTSERV Maestro 2.1 is installed by default with an internal system database using MySQL® 4.1.7. LISTSERV Maestro can use a separate, external database to store its internal data. LISTSERV Maestro can also use separate databases to provide recipient lists from database tables. Supported DBMS programs for storing the system database are:
· Oracle® 8i, 9i, 10g, and compatible versions
· DB2® V7.2, V8.2, and compatible versions
· MySQL® 4.x and compatible version, as well as 3.23.42 and later 3.23x builds
· SQL® Server 7.0 and 2000
In addition, any ODBC-compatible database can be used as a source of recipients.
LISTSERV and LISTSERV Maestro also require access to one or more SMTP servers to perform the actual delivery of email jobs for LISTSERV Maestro and LISTSERV. Any standards-compliant SMTP server will work.
The three LISTSERV Maestro components, LISTSERV, the SMTP server(s), and the optional database(s) may be installed on any combination of hosts, from one single host shared by all components to six or more dedicated hosts, one for each component (it is possible to have multiple LISTSERV servers and multiple SMTP servers). For more information on host restrictions, installing LISTSERV Maestro, and starting and stopping the LISTSERV Maestro service, see the LISTSERV Maestro Installation Manual. For more information on preparing databases to work with LISTSERV Maestro, see the LISTSERV Maestro Administrator's Manual.
Depending on the operating system of the client used for the access, the following browsers are supported when accessing the Maestro User Interface or Administration Hub:
· Client with Windows – Microsoft® Internet Explorer 5.5 or later, Mozilla® 1.0.0 or later, other browsers based on a compatible Mozilla version (e.g., Firefox 1.0 or later, Netscape® 7.0 or later).
· Client with Linux – Mozilla® 1.0.0 or later, other browsers based on a compatible Mozilla version (e.g., Firefox 1.0 or later, Netscape® 7.0 or later).
· Client with Mac OS X – Mozilla Firefox or the Mac native Safari browser (version 2.0, build 412 or later).
To access the Maestro User Interface or the Administration Hub, we strongly recommend that only Windows, Linux, or Mac OS X is used with the browsers and browser versions listed. Other operating systems, browsers, or browser versions are not supported.
The client does not necessarily have to have the same operating system as the LISTSERV Maestro server. A Linux client can be used to access LISTSERV Maestro on a Windows server and vice versa. Similarly, the different components of LISTSERV Maestro may run on different operating systems, if they are installed on separate servers. For example, the Maestro User Interface and Administration Hub components may be installed on a Windows server, while the Maestro Tracker is installed on a Linux server.
Important: Recipients of email being tracked by LISTSERV Maestro may use whatever browser they wish to access the URLs contained in the messages sent by LISTSERV Maestro. Tracking occurs no matter which browser is used by email recipients.
The opening screen of LISTSERV Maestro's interface contains various sets of functional and navigational icons. The top right of each screen in the LISTSERV Maestro interface includes all or a subset of these four icons:
| | |
| --- | --- |
| | Home brings the user back to the opening screen – the LISTSERV Maestro home page. |
| | Up One Level brings the user up one level in the program, not necessarily back to the previous screen. |
| | Log out ends the LISTSERV Maestro session and closes the account. |
| | Help provides access to page specific online help. |
LISTSERV Maestro's functionality centers on characterizing the various parts of an email "job". A "job" refers to all of the elements that make up the creation, scheduling, delivery, and tracking of customized email messages. Throughout LISTSERV Maestro documentation, "job" and "email job" are used interchangeably and represent the same thing – the summary of the multiple functions that make up the definition and distribution of customized email messages.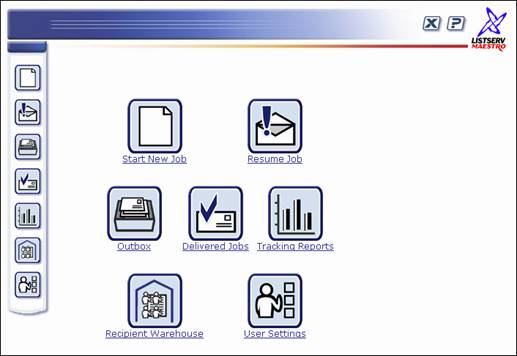 The center of the opening screen of LISTSERV Maestro contains seven large icons that activate the major functional areas of the program:
· Start New Job – Starts/begins the definition of a new email job.
· Resume Job – Lists all jobs that have been started but have not yet been approved for delivery. Jobs listed here can be edited.
· Outbox – Contains a list of jobs that have been defined, scheduled, and approved for delivery, but have not yet been sent. The Outbox also lists jobs that have failed during delivery for some reason.
· Delivered Jobs – Lists all the email jobs that have been delivered. From here it is possible to generate "quick reports" on a selected delivered job.
· Tracking Reports – Engages the Reporting wizard to produce graphs and reports from the tracking data collected from delivered messages.
· Recipient Warehouse – Contains the recipient target groups and data tables used to store data. Both are defined by the Data Administrator.
· User Settings – Stores information about sender profiles and drop-in content elements. Also listed here are individual user preferences and change password options.
These icons are repeated along the left side of every screen for navigational purposes.